About the TCJH Book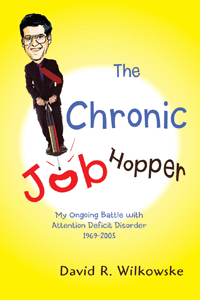 The Chronic Job Hopper: My Ongoing Battle with Attention Deficit Disorder 1969-2005
by David Wilkowske
Description
In The Chronic Job Hopper, author Dave Wilkowske pulls down the curtain on the mythical American dream and reveals a jungle of wrong turns, lions, and bloodthirsty insects. Wilkowske's life story is a riveting and insightful portrait of the American workplace—like Barbara Ehrenreich's wildly successful Nickel and Dimed—with one essential difference: Wilkowske isn't pretending to be a laborer. This is his real life.
In more than forty-four years of chronic job-hopping, Wilkowske runs the gamut from high-buck corporate tech assignments (i.e. Bank of America, IBM, WorldCom/MCI) to wading through raw sewage. And he tells it all—comic and tragic—with a striking balance of irony and rage. While Wilkowske's undiagnosed attention deficit disorder pulls him senselessly from one career mishap to another, he deftly recounts his debacles against the backdrop of emerging American history and culture from the 1960s to today.
The Chronic Job Hopper is an eye-opening examination of the plight of the middle-class laborer, as well as a potent argument in favor of early screening and intervention for attention deficit disorder. It's a must-read for anyone who has or is facing the jungle of career transition without a map, a guide, or even bug spray.

"Inspirational and informative. A must-read for those seeking, but rarely finding, contentment at work or at home." —Kirkus Discoveries
---
If you have any questions about The Chronic Job Hopper book or ADHD click here to ask Dave.